We live in a world where everything, big or small, is in the process of perpetuate change. Of course, there is no doubt, that technologies have a massive impact on it. Every day people from different parts of the world innovate and create something new, something better, something more complicated, hence making the world more convenient and diverse. In the process of this rapid change human creativity and imagination try to meet the communicative needs of human beings as well. No one would ever imagine that technological innovations could change the world in such a way that it would influence on the mode and environment of communication as well.

Today, social media has become the major source for human interaction. People with different cultural and linguistic backgrounds interact in different platforms of social media. And due to the obsession of social media networks, information and communication disseminate to thousands of people faster and faster.
Linguistic innovation-textspeak-language change
It is worth mentioning that technological innovation has conversed our writing communication in a couple of crucial ways. Due to the character limitation of some websites, online users have started to economize and summarize their writings in order to transcend more information and save more energy and more time. Hence, they have started to create new linguistic innovations.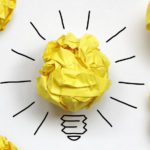 The usage of abbreviations has become more prevalent. And on the process of this big change that occurs, one should notice there has not been any filter on the way we textspeak. Over time linguistic innovations penetrate into standard language and become language norm and regulation. Hence, in this article we try to demonstrate how technological innovation has reshaped human language, how it has made online users to create and innovate new linguistic units. The latter comprises shortenings, clippings, contractions, word-digit replacement, word-letter replacement, blending, unconventional spellings, etc.
1. Abbreviations
Here are some examples of e-abbreviations:
| | |
| --- | --- |
|  ZZZ – Sleeping, bored, tired |  AFAIK – As far as I know |
| WYWH – Wish you were here |  AFAIR – As far as I remember |
| TIME – Tears in my eyes |  AFAIC – As far as I'm concerned |
| BAE – Before anyone else |  AAMOF – As a matter of fact |
| IIRC – If I remember correctly |  AFAICT – As far as I can tell |
| LULU-locally unwanted land use |  FAQ-frequently asked questions |
| ALAP-as late as possible |  TGIF-thanks God, it is Friday |
| TIA-thanks in advance |  CUS-see you tomorrow |
There are so many abbreviations transmitted in social media that some users think soon information and communication will be held only in abbreviated forms. Of course, it is out of doubt that people create them for fast typing.
2. Word-digit, word-letter replacement
Many users innovate linguistic units by replacing letters into digits: 2=two, to, too, 8=ate, 4-for. Meanwhile, word-letter  innovation refers to the replacement of words into single letters like U-you, b-be, y-why, r-are, s-is, c-see, k-okey, d-the, etc.
3. Blending
Other users try to blend words together to create new linguistic units which will replace all that blending components.
4. Letter drops
On the Internet one can find plenty examples with initial and final letters drop as:

Letter drops also occur in the middle position of simple words as well. However, one should notice  that in the middle position mainly vowels drop:
next-nx, good-gd, about-abt, tomorrow-tmrw, back-bck, from-frm, but-bt, good-gd
5. Unconventional writing
Unconventional writing refers to the written forms of words as they sound. It is considered to be one of the most distinctive features of social media communication. Users type any word unit as they want, as the word sounds. Even more, sentences and larger units are written like that:
YOU MEAN AVRIL LAVIGNE? HE WAS A SK8ER BOI SHE SAID U R A FKBOI, HE WASNT GUD ENUF 4 HURR (http://www.twitter.com)
IN ORDR 2 UNDERSTAND Y WE R KEPT DOWN U NED 2 REALIZE DAT EVRYTHIN IZ CONTROLLD BY A GROUP OV ADEPTS MADE UP OV NEONAZIS #curiouscat #tab (http://www.twitter.com)
The freedom of expression is so much that some users with different linguistic backgrouds try to incorporate English words into their mother language:
okej qika gjeremika imma go sleepita myselfita (http://www.twitter.com)
Gunna clean my casita, my truckita, and then get myselfita all dolled up. (http://www.twitter.com)
By yoursello ha ha ha RT @MistaChrisa: Nkirdizzle You Only Langa Once-YOLO! Lol! (http://www.twitter.com)
Paroli is sposting luiself to Verdini? #shish (http://www.twitter.com)
@indirafajardo luiself estas viva hija, aina vieja indira (http://www.twitter.com)
Stopé la war entre nouself (http://www.twitter.com)
Goeienaand almal. Kom vier saam met Breyani sy 5de verjaardag om 20h00. Ek weet nouself nie watse potjie dit is (http://www.twitter.com)
6. Word-combination
Another creative and innovative characteristics of social media is considered to be word-combination:
wanna-want to, gonna-going to, lemme-let me, dunno-I don't know, gotta-got to, etc.
7. Word-building and creativity
However, one should also notice that there are many linguistic units in social media platforms that are only due to users creativity. Online users try to create and  innovate something new that will attract other users of this or that online community. Hence, one can notice so many creative linguistic innovations like:
With the help of this article we have tried to show the interwoven connection of innovation and language. Technological innovation, first of all, affects human language and online users try to create and innovate new linguistic units that will meet their communicative needs. So, linguistic innovations should not be ignored, they are definitely going to be a part of literal language. And in accord to this, one should mention that due to technological innovation, linguistic innovations will definitely emerge and disseminate more rapidly in near future.