It is a well known fact that communication has always played a vital role throughout human history. People communicate not only to transcend verbal messages but also to express their feelings, emotions and impressions. However, over the years the means and modes of communication have always evolved in response to many linguistic and extra-linguistic factors. Among the extra-linguistic patterns of language change and variation one should pay much importance to migration, which happen mainly due to severe living conditions and massacres.
1. The History of ArmEnglish
In 1915 during the Armenian Genocide many Armenians migrated to the USA. Appearing in a new country they started learning English and adapting it to their linguistic capacities. At the same time, they did their best to retain their mother tongue: Western Armenian. Whereas, another group of Armenians migrated to East Armenia
(the latter was under the possession of Russia) and a new variety of Armenian emerged: Eastern Armenian. Because of the collapse of diplomatic relationships between the Soviet Union and the USA, Armenians were not able to communicate with each other. It lasted over 70 years. Over these times a new hybrid version of Armenian English emerged in the North America and in Anglo-Saxons world. Meanwhile in Soviet Armenia Eastern Armenia received a national status.
After the entire collapse of Soviet Union connections between both sides became more and more frequent. However, something lacked in that connection, and it was the distance. The process continued  until the last decade of the previous century when we just found us in the era of cyber communication. The latter has enabled human beings with different cultural and linguistic backgrounds to become more and more addicted to cyber communication, in other terms cyber-communication has become the best invention to bring people together to interact. Cyber-communication makes human interaction better to past. People have not to travel to vast distances. Communication takes place just in one domain. There is no territorial and linguistic barriers.
2. Do Western Armenians Use Another Variety of 
ArmEnglish
?
Day by day online communications of both Armenians got closer. Eastern Armenians have noticed that many American Armenians make use of English in the domain of cyberspace (Social networking sites, blogs, social news sites, Video-sharing sites, discussion boards, etc) with Armenian mixtures. For Western Armenians cyberspace has become the potential platform for genuine, uncontrolled and conventional speech. They can write what they want, how they want, they can omit letters, shorten words and word-collocations, use as much Western Armenian words as they want, make some linguistic fusions, it is up to their choice. In a way cyberspace has become an online domain of communication of expressing group solidarity. Nevertheless, it should be mentioned that cyberspace has become a potential platform for unconventional spelling almost for every user. Let's discuss some examples of ArmEnglish taken from twitter:
"@LoveHaileyAnne: "@WonHunned: "@__maaarrr__: "@WonHunned:

Hi" laves tsitik?" Vates vagrr?

"@KuklasSay: When a kukla gets mad she starts speaking Armenglish.

My Armenglish dictionary says tartzseneled it is a word. I'm so funny. Me and my mom are laughing so hard. 

Shia Labeauf has no chashak. Yeah, i used my Armenglish .

"yerkoohat touchdown…mikich impossible bayts…" lol my parents laugh at me and siblings for our armenglish but they do it too.

What do I do when I'm in bed bayts shoka yev tsarav mera and the water is downstairs #armenglish.

@dianadevitskaya I'm speaking ARMENGLISH AXCHIK JAN .

No one knows how excited I am for Kuku and aghi dzook this shapat geesher. #Armenglish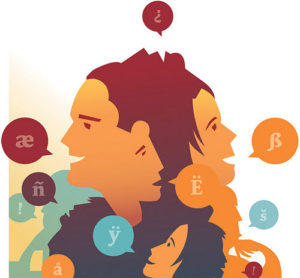 As the above mentioned examples (chashak-taste, yerkoohat-a pair, bayts-but, laves-how are you, tsitik-bird/lady, vates vagrr-Don't you feel well enough, tiger/darling, bayts shoka yev tsarav mera-but it is hot, I thrive, axchik jan-you girl, kuku-doll, aghi dzook-salty fish, shapat geesher-Saturday night) illustrate that ArmEnglish is simply the mere combination of Western Armenian and English. One should note that Armenian words are written in Latin letters, not in Armenian.
Yet, there is no vivid illustrations and examples of grammatical deviations like in Spanglish, Honglish, Chinglish, Konglish. The deviations of ArmEnglish are only on the semantic, phraseological and lexical levels. However, it is worth mentioning that surveys carried out in English (-lishes) varieties clearly illustrate that in the second stage these varieties demonstrate certain grammatical variations.
3. ArmEnglish in Armenia
In reverse to Western Armenians, Armenians in their homeland developed another ArmEnglish. They have started communicating on different platforms of cyberspace using only English, however, written in Armenian letters. All the grammatical forms and categories, pronunciation, vocabulary are English, the only distinguishing peculiarity is that it is written only with Armenian letters. Here are some examples:
Now these two versions of ArmEnglishes are competing. Both of them are actively used by many Armenians.
However, one should take into consideration, that this kind of fusions are the primary elements of forming a language variety.
According to Routledge Dictionary of Language and Linguistics: a variety is a generic term for a particular coherent form of language in which specific extralinguistic criteria can be used to define it as a variety. For example, a geographically defined variety is known as a dialect, a variety with a social basis as a sociolect, a functional variety as jargon or a sublanguage, a situative variety as a register. Here we deal with sociolects, because the specific criteria is social class i.e. ethnicity.
English has many varieties like Spanglish, Hinglish, Chinglish, Khorglish etc. Many of them are thoroughly observed, however there are varieties of English which are on the process of development like ArmEnglish (Armenian+English). It should be mentioned that ArmEnglish is on its first phase of development. And we hope that in near future ArmEnglish will develop more rapidly and will officially be recognized by foreign linguists.
What are your favorite ArmEnglish phrases?
Find out more:
Barseghyan L. (2013) On Some Aspects of Internet Slang, Yerevan State University Press.
Bussman H. (1996) Routledge Dictionary of Language and Linguistics, Routledge.
Hornby S.(1984) Oxford Student's Dictionary of Current English: Oxford University Press.