Starting a business requires you going through several steps: registering your business, hiring a team, rolling up your sleeves and starting the hard work.
As for the startups, the business-setting-up procedure is somewhat different if you want to succeed. In this article, I will discuss the lean methodology. Ever heard of it? Great!
1. Lean Startup Methodology
It turns out that the lean startup consists of three components:
Business model design,

Customer development, and

Agile engineering.
And these three components help startups become incredibly efficient, reducing the amount of time required to get to the first product, as well as reducing the amount of cash necessary to build that product.
At the heart of lean methodology is the fact that you need to learn constantly. One of the most important things you will be doing as a lean startup is getting out of your office and discovering your customers. Drawing your customers on the paper doesn't work for startups. You need to take your product idea to people and learn what they think about it, if it solves their needs, if they have such a need at all, etc.
One thing to remember, as a startup owner, you're not smarter than the collective intelligence of your potential customers. Let them speak and provide feedback for the success of your business.
Did you know that you need some hypothesis? Brace yourself!
Going back to the whiteboard, come up with some hypothesis regarding your new ideas: is it useful, do they like your idea, would they pay for your idea, how they might use your product/service, and more. Then, leave your hypothesis bias on the whiteboard and head out to your total addressable people (all of the people who could be potential clients).
Test your main ideas by asking people questions and collecting a lot of data.
In the end, gather your data and come to your whiteboard. You might be rejecting or failing to reject your hypothesis. Whatever happens, remember, you're learning! You don't want to prove your ideas right, you want to build a successful business.
Another thing you might prefer to do is use Alexander Osterwalder's Business Model Canvas. It's a nine-box diagram that puts all the hypotheses about your business together: who are the customers, what are you building for them, what's the channel, how are you going to reach them, and how are you going to make money. Putting all of these data on a single page will provide a framework, and then a scorecard for you to see how we're doing.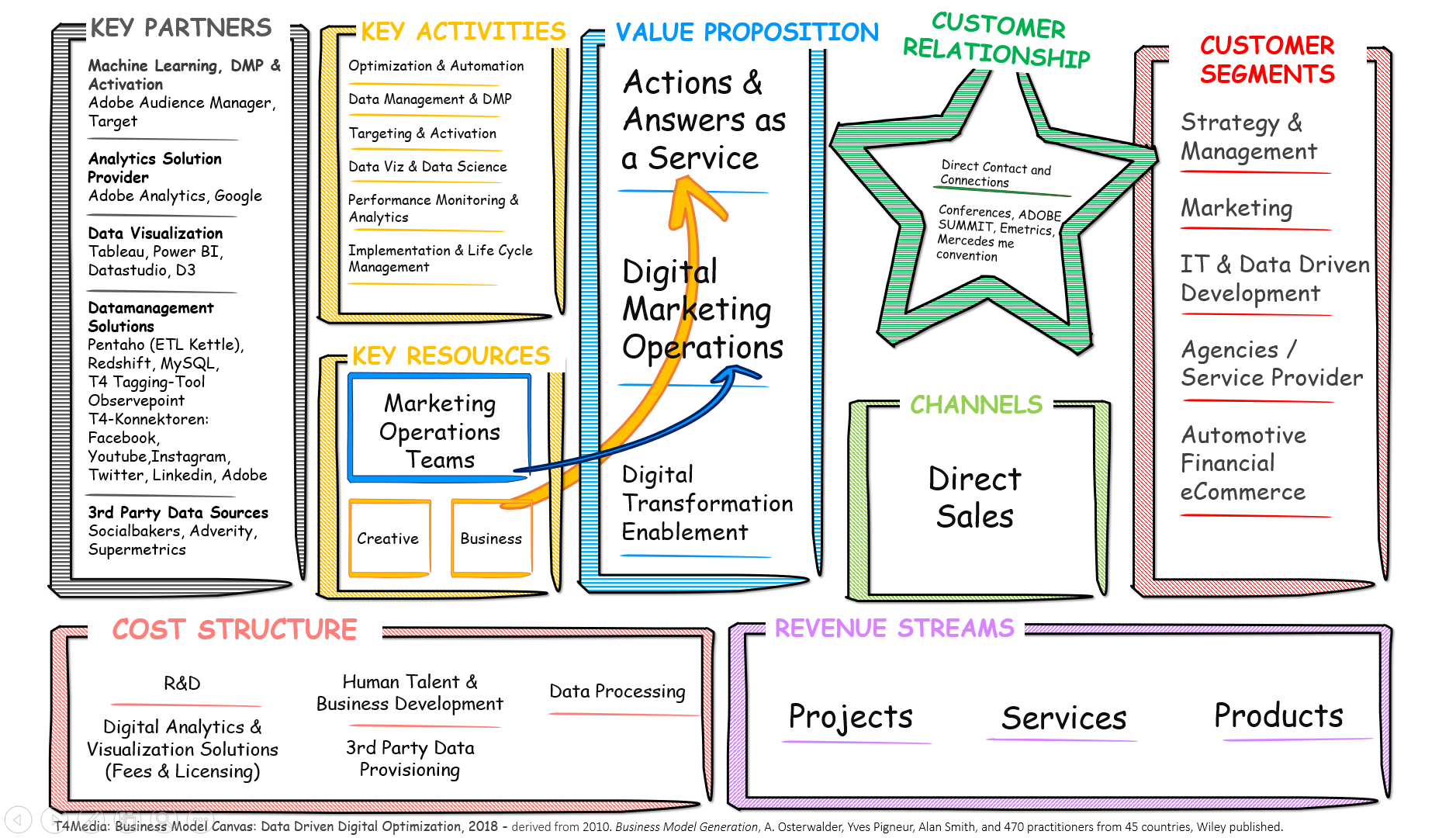 Unlike big companies, you're not going to execute an initially developed strategy, just but you're going to test each and every hypothesis you put out there. Moreover, It will not be a random test but test with a formal process called customer development. 
Now let us understand how to do a formal customer development,
You need to design experiments, run the experiments outside the building, get the data and look for insights. To explain and present your ideas to people and get insights, is by showing customers either PowerPoints, wire frames, clay models, prototypes, at any stage we can. Gather as much feedback as you can!
Most of the times your hypothesis will turn out wrong. When happened so, you shouldn't fire people but you fire the plan. Change your hypothesis and move on! This procedure of changing the hypothesis is known as a pivot.   
A pivot is defined as a substantive change to one or more of the business model canvas components. If it's a minor change we call it an iteration.
Pivots are opposed to established and large companies. What you would normally do in the latter case, you would fire the VP of Sales if their assumptions were wrong.
In a startup we fire the plan. I would need to add, that this mindset works for some large companies as well. Moreover, it serves to their benefit.
Let us discuss a little case about firing the VP vs firing the plan in the large company.
General Electric Case Study
Let's look at General Electric (GE), one of the smartest and biggest companies in the world. GE was about to commercialize some of its high temperature sulfur battery technology. It wanted to offer these batteries to other companies for industrial applications. They had done a great market research report and had pages of where the product should go.
The CEO was going to give the General Manager, Prescott Logan, $100 million to just go and build the factories, execute and hire the staff, and all that jazz. He had the technology and the report backed up with data.
However, Prescott luckily said that it didn't feel right for him to merely execute the plan.
"This doesn't feel like an existing business, this feels like a startup and we ought to check our hypotheses", said Prescott Logan.
Thus, he and his customer development team flew around to almost every continent, in fact, every continent in the world, including Antarctica, and discovered that the requirements actually differed by industry segments. Substantially enough that if they would have had a standard factory making standard product, they would have sold none of them because different customers required different packaging, different cooling, and different connectors. None of this was visible from inside the building.
After 18 months, they figured out who the customers were and what they wanted. After that, they started building the factory. And now, a couple years later, they have backlogs for the next three years. 
——————————
Now what we now know is that no business plan survives first contact with customers. That means we wouldn't know whether we were right or wrong until we shipped the product and customers gave us feedback. Otherwise, you waste your time, run out of cash, and ultimately get out of the business.  
With lean methodology you have a process that allows you to quickly iterate and incrementally build the product, a piece at a time for each increment, as well as learn and discover whether you're on the right track or not.
Some questions you might ask:
What's the right track?

Do I  have the right customers for the right features, product-market fit?

Do I have the right distribution channel?

Do I have the right revenue model?

Right pricing?

Partners?

Do I understand my costs?
We have a process now to test each of these incrementally, cheaply and quickly. And that's what the whole Lean Startup Model is about.
2. Building Your Startup
One of the traps in the lean startup is thinking about, "Oh, I got it! Now I know about business model and product-market fit. Therefore, I now need to get out of the building and finding the right market for my product idea. Those the only things I need to worry about!"
Well, sort of.
Of course, you need to be thinking about product-market fit because if you don't have that, you don't have much of anything else in the business model. But the trap is to think that that's the only thing you need to learn and that you could outsource, e.g. if it's manufacturing, you'd send someone to China to go learn about it. Or if it's channel sales, you'd have somebody else go out and try to sell your product at Target, WalMart or whatever it is, and then they could report back to you.
The point is that if all you're working on is product-market fit, by the time you do find something repeatable and scalable, your investors are going to look at you and say congratulations, thanks for doing that, now we're bringing in your replacement, the operating exec who actually knows about those different parts of the businesses. What they tend to do is to bring in professional managers holding MBA degrees, who've had experience taking a startup from a couple million bucks a year to maybe 100 million and above.
The problem is that no one ever told you that there is a different skill set that you will need in order to go from search to execute. 
It turns out that startups don't simply go from search to execute. There's a secret step in the middle that VC's never bother to tell early-stage entrepreneurs.
2.1 Building Your Startup
It turns out that going from search to execute requires a step called build. Thus, the question is, how do I become a founder who gets to stay at least through the build phase? And that requires you to backup a bit and say, okay, I think I understand about searching for the business model, but what are the small pieces of actually building the company into something that could scale that is going from 8 to 16 to 45 to 150 people? What do you need to know?
The small pieces are the skills of sales, those are skills of marketing, skills of finance, and skills of manufacturing if you're a hardware company. You need to get out a little more than just product market fit. If you're interested in doing that, it ought to be a conscious choice, that while you're working on the core parts of the company, you're actually up looking around and getting advisors and consultants who can teach you how to learn rather than just do it for you.
2.2. Finding the Right Team
One of the things that's often overlooked in building a startup is the team itself. The word team doesn't mean one. One of the biggest mistakes founders make is thinking that it's just about a single person. I've very rarely seen a startup without multiple people with complementary skills. It's very easy to go monoculture, say a team of all design engineers , UI engineers, or hardware engineers.
I've seen startups actually work best when they had the people with complementary skills. It looks like a puzzle: each piece of the puzzle should be different and at the same time adjusted enough to go well with other pieces in order to create the successful picture. Having special skills flavored with teamwork skills is a cornerstone to put together a successful startup.
Something else that also gets overlooked is that you want complementary temperaments. Startups are probably one of the most stressful activities you are ever going to encounter. Somewhere near a third and half of startup teams never even make it to funding because they meltdown beforehand. 
Putting all of these into a nutshell, here's what I would recommend.
Find a startup weekend nearby, some lean startup machine or some Kauffman exercise where you can actually work together for three months or so, or at least a couple weeks under stress, and see what happens when the heat really gets turned up. Remember, firstly get the team with overlapping skills and complementary temperaments. 
One of the greatest startup boost weekends in Yerevan, Armenia, is organized by Entrepreneurship and Product Innovation Center (EPIC) at AUA. Check their newsfeed more regularly. 
3. Pivot or Proceed: How to Decide
One of the real tough questions for any entrepreneur is when to pivot, when to proceed or when to restart.
What you're trying to understand at this pivot or proceed part is whether you have found your product-market fit.
That is value propositions, products, and a service that actually matches a set of customer needs.

Do we understand the archetype of those customers in detail?

Does our minimum viable product (MVP) match those needs of those archetypes?
You might take an honest look at what you've been doing so far and go act upon it.
We used to think that startups simply execute per plan and the biggest problem we would ever encounter as an entrepreneur is to make sure we get a space big enough to put the bags of money when those arrive at the door. The reality is that most startups actually fail. Most of your hypotheses are going to be wrong. Therefore, you need a mindset of learning from each iteration, from each change and from each pivot. 
The best example of this in the last couple years was a company called Odeo. They had tried a ton of moves and it just wasn't working. One day, one of the founders said,
-Well look, let's give the money back to our investors.
-Why don't you keep the money and try some other ideas?- investors replied, since they had so much faith in the founders.
-We have this crazy idea about 140 characters and making that into a communications business. – replied the entrepreneur.
Sounds familiar? It turned out being a Twitter which was a complete restart, not just a pivot. They kept the same team, same building and whatever they had except for their old plans and hypothesis; they started planning from scratch.
At some point in time you might want to decide that that is the right thing to do; therefore, either proceed, pivot, or restart.